Reduce, Reuse and Recycle
According to the U.S. Environmental Protection Agency, "the most effective way to reduce waste is to not create it in the first place." (Sound's governmental, doesn't it?) Simply stated, making a new product emits greenhouse gases that contribute to climate change and requires a lot of materials and energy. Raw materials must be extracted from the earth, the product must be fabricated, and then it must be transported to wherever it will be sold.
Reducing and reusing lowers greenhouse gas emissions that contribute to climate change; it prevents pollution caused by reducing the need to harvest new raw materials (reducing greenhouse gas emissions that contribute to climate change); it saves energy and helps sustain the environment for future generations; it reduces the amount of waste that will need to be recycled or sent to landfills and incinerators; it allows products to be used to their fullest extent; and it saves money. All good stuff!
Recently, however, the third mainstay of the environmental movement is struggling. Many cities and counties are cutting back on their recycling programs or discontinuing them altogether. Criticsdispute the net economic and environmental benefits of recycling over its costs. They argue that the costs and energy used in collection and transportation outweigh the costs and energy saved in the production process, and that the jobs produced by the recycling industry are a poor tradeoff for the jobs lost in the industries associated with 'original' production. However, what they don't understand is that when recycling is done properly, the environmental and economic benefits of recycling far outweigh original production.
But today, 52 years after the celebration of the first Earth Day, less than 1/3 of municipal solid waste is recycled, and much of that is contaminated with garbage which reduces or eliminates its value. We need to do better!
We know that people can learn to behave responsibly. Most people wear seat belts, fewer people smoke, and incidents of drunk driving are reduced year after year— in part due to comprehensive national public campaigns and policies. But recycling has struggled for decades due to a lack of consistent messaging and a lack of federal policies to implement solutions which would allow people to begin recycling correctly. In fact, the rules are not only different from country to country, they're mostly different from county to county across our own country. And often much of the packaging we bring into our homes, have misleading messaging about their recyclability. With a lack of consistency in public communication or rules related to recycling, it's virtually impossible for people to recycle properly and therefore impossible for recycling to succeed.
You might be hearing that your recycling is going to the landfill or an incinerator, or that your community's recycling program is shutting down. You may also be hearing devastating statistics about oceans and waterways being filled with trash and plastics.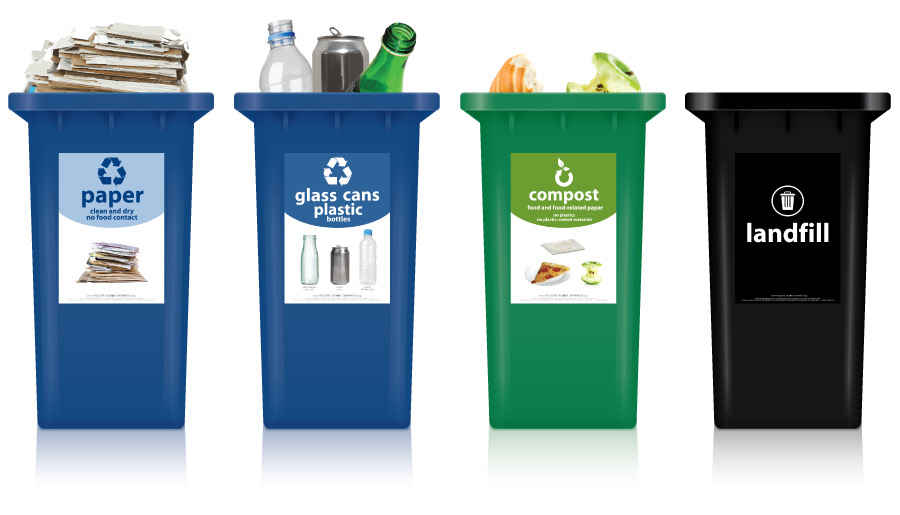 However, there are practical and proven solutions that can be legislated and implemented nationally to fix these issues. The nonprofit organization Recycle Across America (RAA) has been demonstrating for over a decade, that it is possible to get people to recycle properly, when recycling bins consistently display easy-to-understand instructions. In 2009, RAA created the first and only society-wide standardized labeling system for bins that work for every type of recycling sorting program in the U.S. Additionally, RAA started a national communication
campaign to help people recycle right and to introduce this solution. Our network publication has been displaying their Let's Recycle RightTM public service campaign for a few years, which features the images of Kristen Bell, Angie Harmon, Johnny Galecki and other prominent volunteers.
The New York Times referred the standardized label solution for recycling bins as "one of the most important environmental fixes taking root today." Hoping to make sure it does "take root," the network sat down with Mitch Hedlund, the founder of RAA, about the recycling crisis and what is being done to fix it.
the network: What do you see happening in the recycling industry today?
Mitch Hedlund: Recycling is definitely collapsing. For example, to date, more than 1,000 recycling centers and processing plants have shut down in California alone.
The collapse of recycling in the U.S. is the result of garbage being thrown in recycling bins, which contaminates the recyclables. The contamination is such a problem that China, one of the largest purchasers of U.S. recycling, has been warning the U.S. for over 10 years to start cleaning up our recyclables. But the U.S. recycling industry didn't do anything to address the public confusion at the bin and the resulting contamination issue. In January 2018, as they warned they would, China stopped purchasing U.S. recyclables, which created a global collapse of the recycled commodity markets.
It's important to reiterate that China's decision to no longer purchase recyclables from the U.S. is not the cause of the recycling crisis, as has been widely reported; it is, instead, the reaction to the public's confusion about recycling and the subsequent contamination problem.
the network: What do you think caused this to happen?
Mitch Hedlund: The root of the crisis is a direct result of how recycling has been presented to the public (aka the recyclers). There are thousands of confusing recycling instructions on bins throughout the country, which makes people skeptical and apathetic about recycling, and that leads to a belief that recycling must not be important. Ultimately, the inconsistent labels on bins throughout society, leads to millions of tons of garbage being thrown into recycling bins. The contamination is extremely expensive to even try to remove during the recycling process, which drives up the cost of recycling, reduces the quality of the recyclables, and makes the recycled commodities less desirable to manufacturers.
Most people don't know that this problem is easily solvable. In our work at Recycle Across America, we've seen that the society-wide standardized labeling system for recycling bins can absolutely end the public's confusion about recycling and therefore, eliminate the costly contamination issue at the source. It's such a simple and commonsense solution — but most of the large groups that control and influence the recycling industry are profiting from recycling not working.
the network: What do you mean? What exactly are you saying?
Mitch Hedlund: Unfortunately, there are many conflicts of interest in the recycling space. For instance, some of the biggest and most dominant recycling companies in the U.S. are owned by landfill companies. Therefore, when recycling doesn't work well, the landfill side of their businesses becomes more profitable. You'll notice in many news articles, the recycling professionals that are providing the excuses why recycling isn't profitable, are funded by the landfill industry, the virgin plastics industry and the waste-to-energy incinerator industry — industries that profit more when recycling doesn't work.
When there are these types of conflicts of interest at such an influential level in the recycling industry, it becomes clear why the simple issue of public confusion at the bin or confusing information on packaging wasn't solved decades ago. Because when recycling is highly contaminated and too costly to process, then the landfills generate more revenues, the virgin material industries sell more virgin materials and there is a stronger appetite for building incinerators that burn waste to create energy. Their tentacles to influence recycling run wide and deep; they fund powerful recycling trade associations, trade publications, nonprofit organizations, lobbyists and they can sway policymakers.
As an analogy, imagine if there was complete road chaos because there were no standardized road signs. Now imagine that the groups responsible for promoting road safety in the U.S. also owned most of the auto body shops, tow truck companies and morgues.
the network: What will be the result if the recycling industry collapses?
Mitch Hedlund: Economically speaking, the recycling industry is more than a $200 billion industry worldwide. For every one job in the landfill industry, there are five to 10 jobs related to recycling.
Environmentally speaking, there is no other action that society can do today to simultaneously improve our impact on the environment, manufacturing and the economy as recycling can. When recycling doesn't work, more finite and virgin resources are used: more oil drilled, more trees harvested, more fresh water and energy used, and there are more materials littered, more waste in oceans, more carbon dioxide emitted, and the otherwise valuable recyclable commodities are buried in landfills or burned.
According to a Tellus Institute study, if recycling levels in the U.S. reached 75%, it would reduce carbon emissions equivalent to removing 50 million cars from U.S. roads each year and would create 2.3 million net domestic jobs.
the network: What would you like to see happen?
Mitch Hedlund: The primary solution to fix recycling and to help manufacturers reuse materials versus using finite resources is to have standardized labels on recycling bins throughout society, which clearly indicate what can be recycled at each bin. Referring to the road sign analogy again, we only have to go through driver's education once, and then we can drive safely for the rest of our lives because every road sign in the U.S. is standardized. Even if the driving rules are different from one road to the next, we are able to instantly adjust our behavior based on the instant response to the standardized road signs.
Although recycling programs are different from one community to the next, we developed a standardized label for every type of sorting system, using a consistent methodology. We have more than a decade's worth of results to show that this simple solution is absolutely effective.
the network: That certainly sounds reasonable. What has been your experience when the labeling is more consistent?
Mitch Hedlund: There are more than nine million standardized labels displayed on recycling bins throughout the U.S. today — and they work!
For example:
When Bank of America donated standardized labels for all the recycling bins in the public K-12 school district in Orlando, FL, the recycling levels in the district increased by 90% and the district saved $1.37 million in trash hauling fees in the first two years.
The school district for Las Vegas, NV (Clark County School District) saved $6 million in trash hauling fees in their first two years of using the standardized labels on their recycling bins.
The state of Rhode Island is beginning to implement the standardized-label solution statewide, and they have already experienced a 20% decrease in contaminated and rejected truckloads at their recycling facility.
Despite having millions of visitors from all over the world, Yosemite National Park's contamination levels in their recycling bins have decreased to less than 8% since displaying the standardized labels on their bins.
U.S. Bank Stadium in Minneapolis, Minnesota went from a 20% recycling level that was plagued with contamination to a new recycling level of 83% during game days with almost no contamination thanks to the standardized labels. As a result, the stadium hosted the first zero-waste Super Bowl in history.
Some of the hotels and theme parks at the Walt Disney World Resort in Florida saw a doubling or tripling of their recycling rates after implementing the standardized label solution for their 90,000 employees.
the network: What can individuals do?
Mitch Hedlund: Reduce, reuse, and keep recycling … but try to do it properly! Always recycle these basics: empty metal cans, clean office paper and newspaper, clean and flattened cardboard, empty plastic bottles and jugs with necks (#1 and #2 plastics), and if your community still accepts glass, recycle your empty glass jars and bottles.
Never put batteries, plastic bags, plastic utensils, dishware, clothing, furniture, electronics, hoses, needles, prescription bottles, food waste or food-soiled paper in the recycle bin unless instructed to do so. Instead, contact your county to find out where to properly recycle, compost, donate or dispose of those items. Just remember, when in doubt, throw it out.
the network: What would you recommend lawmakers do to try to save the industry?
Mitch Hedlund: The main goal is to get the society-wide standardized label solution for bins federally legislated and implemented at a national level, to make it possible for the public to begin recycling properly wherever they are. We have this exact type of policy in place at a federal for standardized road signs, we need to follow the same logic and policy-making for recycling signage. And in the meantime, counties, states, businesses, schools, airports, sports stadiums and so forth should begin using the standardized labels on their recycling bins without waiting for federal legislation. Also, all businesses, households and municipalities should insist that their recycling hauler begin applying the standardized labels on their recycling bins, carts and dumpsters.
Lastly, policymakers should outlaw conflicts of interest, if such conflicts are hindering environmental and societal progress.
In the near future, the network will host webinars about this subject to help people within the real estate and property management industry understand why recycling properly is important and how it can create a significant cost savings.
For more information, go to www.recycleacrossamerica.org or contact [email protected] .
Michelle "Mitch" Hedlund is the Founder and Executive Director of Recycle Across America, a nonprofit organization whi9ch, since 2010, has been pursuing state and federal legislation for the standardized of labels for recycling bin. The standardized labels are displayed on recycling bins across the country, including in federal facilities such as the National Parks, in states, counties, cities, business, schools, airports, sports stadiums, and on residential carts. Currently, with $60 million dollars in donated ad space, Recycle Across America has launched the largest recycling campaign in U.S. history, featuring celebrities, musicians, governors, secretaries of state, mayors, athletes, etc. and is called "Let's recycle right!®".
She is a frequent contributor to media on the subject of recycling and the environment, including The New York Times, CBS This Morning, NBC Nightly News, Intercept, Forbes, The Chicago Tribune, USA Today, and various industry publications. She is an ongoing national and international speaker, including providing the keynote presentation at the European Union's Environmental Summit in Brussels and the U.S. Zero Waste Conference, and has also been the chairperson for highly relevant national conferences such as the American Packaging Summit.